Who on this planet can get away with wearing a phone on her head, Diet-Coke-can curlers on her hair, and cigarette glasses(!)??  No other than the Fame Monster herself — Lady Gaga.
A blockbuster music video is a rarity in today's music industry.  And Lady Gaga's latest 9 minute music video, which features the record-setting Grammy winner Beyoncé, has created buzz for being a blockbuster video. Since its release on the web last March 11, it has easily been the most watched and discussed video.  It has garnered more than 18 million views on YouTube in less than a week.
Watch the epic music video and see why it is such a thriller:
Lady Gaga Telephone
Banned? It has been reported on CNN that MTV banned 'Telephone' from being aired.  But MTV (a Music Television channel that is not a music television channel anymore?) said the report is completely false; they did not ban Lady Gaga and Beyoncé's 'Telephone' video and that it actually began airing on MTV early Friday.  Hmmm? This just proves that no one actually watches MTV anymore.  YouTube killed MTV?
Telephone Photos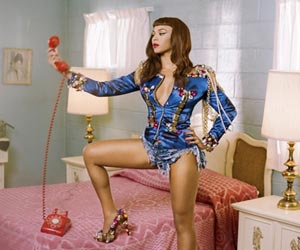 [photos: LadyGaga.com]
So what do you think of the "Telephone" video?