A Content Management System (CMS) makes it easy for anybody to add, update or change their website without the need for technical skills, or for paying an expensive web designer to do it for you.
Using clear, simple-to-follow user interfaces and a wealth of useful tools, they cut the costs of managing our websites and give us full control over the look, layout and content.
So it makes sense that more and more people are choosing to use a CMS to power their new sites. If that sounds like you, one of your first concerns is likely to be finding good quality, cheap web hosting for your content management system.
The good news, is that many of the cheapest hosting providers offer one-click installation of the major CMS platforms, so that all you have to do is pick which one you're going to use and get to work on creating an awesome website.
Which Content Management Systems are available?
By far the most popular and widely known CMS out there is WordPress. Though predominantly known as a blogging platform, it can actually be used to create rich, dynamic websites offering users all the functionality they'll need to get what they're looking for from your business.

Yet WordPress isn't the only option out there.
Leading the charge as its nearest rival comes Joomla, another powerful CMS that provides lots of support for those web developers who need to create tools such as directories and store inventories.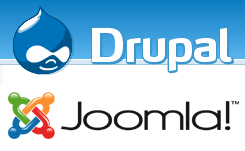 Drupal is another popular choice, and is actually the driving force behind many US government websites. Where this one stands out is with its range of additional features for creating online communities and letting your website visitors add their own content to your site.
If you're planning to start an online store and need a quick and easy way to manage it, the Magento CMS, which focusses on eCommerce, might well be your best choice.
How much does a CMS cost?
All of the Content Management Systems listed above are open-source, which means that they are free to download, install and run, all without any limitations or restrictions.
Where can I find cheap web hosting for a CMS?
Most of the best web hosting providers make it easy to get up and running with a CMS, and you'll be hard pressed to find one that doesn't at least support WordPress.
For example iPage have special hosting packages, whilst their core shared hosting offer comes with easy installation for Joomla and Drupal.